The Best UKBI Tips and Strategies
We might be familiar with TOEFL and IELTS as the standardized tests to determine your English proficiency level. In Indonesia, the equivalent test is called UKBI (Uji Kemahiran Berbahasa Indonesia). This proficiency test developed by Indonesian Language Agency has been around since the 1990s. This test is not a pass-fail test, but a proficiency test developed for both native and foreign speakers of Bahasa Indonesia.
When you take the UKBI, you get a mark between 0 and 800. It covers 5 aspects of language skills: listening, reading, grammar usage, writing and speaking. The final mark is, therefore, the sum of these 5 section marks. At the end of the test, you will receive the official scores that can be compared against a predetermined benchmark.
Some tests assess participants in 3 sections (Section 1 – 3), 4 sections (Section 1 – 4) or 5 sections (Section 1 – 5). So, it is always good to find out how many sections will be tested before you sit for UKBI.
This article will give you the best UKBI tips and strategies on how to maximize your scores in UKBI. Do remember that these tips are based solely on our observations. Learn Indonesian Asia brought UKBI to Singapore in collaboration with the Indonesian Embassy in 2015 and has administered UKBI in Singapore since then.
Always remember, to achieve success, one needs constant practice and exercise.
Section 1 – Listening (Mendengarkan)
In this section, there are 40 MCQs that you have to complete within 30 minutes. There are 4 dialogs and 4 monologues that will be played. Each dialog/monolog has 5 questions.
Example:
Si pria ingin ________ rambutnya.
(A) memotong
(B) mencuci
(C) mewarnai
(D) memotong
This section is very tricky. It requires you to skim reading the questions quickly while the recording is being played. Also, you need to answer the question as and when you listen to the recording. Most of the time, the questions within the dialog/monolog will follow the sequence of information being given. The questions might also get longer and longer.
We recommend answering the question straightaway once you hear about it. Do not hesitate. There might not be enough time checking your answers since there is only a very short pause in between dialog/ monolog.
Section 2 – Grammar Usage (Merespon Kaidah)
This is our favorite section. In this section there are 25 MCQs that you have to complete within 20 minutes. For each question, two highlighted parts will be given. Wrong grammar will be presented in one of the parts. The errors might be on the usage of punctuations, suffixes, spelling, etc.
Example:
Silakan duduk
(A) Persilakan
(B) Silahkan
disini.
(C) di-sini
(D) di sini
To tackle this section, it is easier for you to identify the correct part first. Once you have eliminated the correct part, take a look at the wrong part. See among the two options within the wrong part, which one is the correct one.
Now let's go back to our example above. "Silakan" is the correct word to allow other people to sit down. Between (C) and (D), which one is the correct one? (D) is correct because "di" as preposition has to be written separately from the word following it.
Remember, do this section carefully and quickly. Each question shouldn't take more than 1 minute to be answered.
Section 3 – Reading Comprehension (Membaca)
In this section, there are 8 passages with 5 MCQs each. The time to complete this section is 45 minutes. Some readings are short, some are long. However, the length will not exceed 1 page.
It may be easier to read the questions first before each passage. It will help you spot the keywords needed to answer the questions. Usually, the main topic of each paragraph is in the beginning or at the end of the paragraph.
Allocate around 30 seconds to skim through the questions for each part, 2 minutes to read each passage, and 30 seconds to answer each question. This is just general guideline since the reading can get more complex towards the end, hence more time consuming. Nonetheless, with this general time allocation, it may give you a little bit of extra time at the end to check your answers.
Section 4 – Writing (Menulis)
This section requires you to write around 250-word essay with a given topic within 30 minutes. Your writing is assessed based on the content, story line, vocabulary, and grammar.
General good writing rules apply here. You need to have a clear story line to expand your ideas. Set the main idea first. Then generate the sub ideas from there. It is essential to have a good introduction to lead the readers to the main topic. For example, you can start with a question to intrigue your readers:
"Apakah Anda tahu dampak terbesar dari polusi?"
End your writing with a conclusion or a summary. You can also give some suggestions or an invitation, depending on the topic you're writing.
"Setiap orang bertanggung jawab untuk menjaga kelestarian alam. Mari kita berkolaborasi untuk Indonesia yang lebih baik."
Section 5 – Speaking (Berbicara)
This section requires you to speak for a maximum of 10 minutes in front of the examiner. You will be given 5 minutes to prepare. You are allowed to bring your scribbles/notes that you have prepared earlier. This section assesses your ability to speak in terms of content, story line, vocabulary, grammar and pronunciation.
A picture, a diagram, a graphic, a table etc will be given. Again, general good speaking rules apply here. Identify the main topic of your monologue, then expand it into sub ideas. Mind maps may be helpful during your 5-minute preparation.
During the presentation, remember to greet the examiner: "Selamat pagi, Pak/Bu!". Thank him and her for the opportunity given (this is Indonesian etiquette in opening a speech). After giving a conclusion at the end of your monologue, you may also end it with a poem or pantun. You want to leave a strong impression on the examiners.
Tinggal jerami padi habis
Hinga bersih bakar dulu
Sampai disini rupanya pidatoku
Sekian terima kasih
So, how does the grading system look like?
Find out more here.
The Indonesian Government has also set the proficiency standards for foreign speakers of Bahasa Indonesia, benchmarked against the UKBI scores.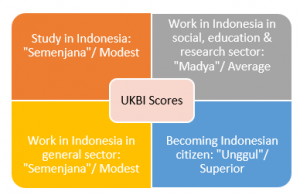 Source: Permendikbud No. 70 Tahun 2016
If you are keen to find out more about learning Indonesian and how you can benefitted from it, [email protected]. You may also buy UKBI Preparation Book here.
We wish you the best for your UKBI. Thank you for choosing to learn Bahasa Indonesia which will open the door for you to more than 260 million people (as of 2020).